Bolt the Series: Ultimate heroes is a series created by DD24, a huge fan of Bolt. it was developed for Disney Channel and Freeform.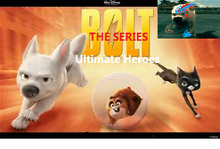 The series revolves around Bolt, Mittens, and Rhino thwarting the evil plans of Dr.Calico and saving Penny. The series also introduces a new character, named Voltage, who is Bolt's cousin, introduced in the series premiere. The series was considered in June 2016, but on July 1, 2016, DD24 decided to start a new series with Bolt. It premiered ten days later.
Genre: Comedy-Drama
Running Time: 20-24 minutes.
Theme Song and Credits
Edit
The theme song was set on July 10, 2016, a day before the series aired. [Does not belong to DD24]
The credits were set on July 6, 2016, before the theme song. Top video is the theme song. [Again, doesn't belong to DD24] the lyrics were supposed to represent Bolt and his family/friends' love.
John Travolta as Bolt
Susie Essman as Mittens
Mark Walton as Rhino
E.G Daily as Voltage
Malcolm McDowell as Dr. Calico
Miley Cyrus as Penny
Tundrathesnowpup as Thunder
Voltage is found in an alleyway, being tormented by an alley cat [whom Mittens scares off]. He realizes his brother was there, and Bolt was uncertain at first...until he saw the resemblance between the two.
Voltage is very brave and daring, and you wouldn't want to pick a fight with him. he gets mad sometimes and this makes him a totally different kind of dog. He was born on April 13, also revealed in the series premiere.
Thunder debuts in the Season 2 premiere. She belongs to Tundrathesnowpup, and her page is here.
Season 1
Edit
The first season is currently airing. There is week of premieres for the whole month of July, every weekday at 7. The first episode aired on July 11, 2016. Voltage makes his first appearance here. the first season will have 21 episodes.
| Ep No. | Name | Air Date | Synopsis |
| --- | --- | --- | --- |
| 1 | Pilot | 7/11/16 | Bolt has many thoughts swirling in his head when Dr. Calico captures Penny while he meets his long lost brother, Voltage. |
| 2 | Mittens Madness | 7/12/16 | Mittens goes missing, sending Bolt into a panic. |
| 3 | Battle of the Bolts | 7/13/16 | Dr. Calico creates an evil clone of Bolt, and Bolt may have met his match. things go from bad to worse when Rhino suddenly turns evil. |
| 4 | Glitched and Hitched | 7/14/16 | Calico interferes will all aspects of Penny, Mittens, and Bolt's lives when he meets a feminine mastermind who can help him make the world nothing but a mere glitch, so Bolt, Mittens and Rhino hack in to stop them. |
| 5 | Party Panic | 7/15/16 | Mittens and Rhino must track down an assassin at Bolt's birthday bash, and fast. |
| 6 | Linwood Derby | 7/18 | Penny enters a roller derby to stop a thief at large, and her pets must skate too. Only problem? Mittens can't roller skate, and they must win a derby. |
| 7 | "Your #1 Fan!" | 7/19 | Rhino butts heads with another hamster when he claims the he is "Bolt's biggest fan,' and later finds out that he is evil. |
| 8 | Mutiny | 7/20 | Mittens, Voltage and Rhino have had enough of Bolt being in charge on missions, so they all debate on who should command them. |
| 9 | A Game of Cat and Mouse | 7/21 | Mittens is intent on catching an annoying mouse in the household, and Bolt highly disapproves. Later, Penny finds out this mouse is Calico-related, but it's too late--it has turned Mittens evil. |
| 10 | House of Wars | 7/22 | When penny and her mother are away, the pets bicker over household supremacy. |
| 11 | 101 Voltages | 7/25 | Voltage is overbooked, so he finds a cloning machine and clones himself...again and again. |
| 12 | Fallen Hop Idol | 7/26 | A hip-hop diva visits the household, and mittens is starstruck. But will this star interfere with Mittens' daily missions? |
| 13 | Little Shop of Rhinos | 7/27 | Bolt wakes up to find 1200 hamsters in the house. Calico informs the gang that the hamsters are explosive and Rhino is among them, and they must find Rhino before all the hamsters explode. |
| 14 | A Fare to Remember | 7/28 | The gang is suddenly bankrupt, and find out that Calico has sabotaged all their money, making it near impossible for Penny and the gang to live. |
| 15 | Parentsite | 7/29 | Penny's mom embarrasses her at school, and Penny is angry. meanwhile, Penny's mom is also overprotective of the pets, to the points where they decide to find her a friend to hang out with. |
| 16 | Pennies and Penny | 8/1 | A run of bad luck plagues Bolt, so he flips an odd coin for good luck. but when he picks it up on tails, the results are disastrous. |
| 17 | The Trouble with Time | 8/2 | Mittens makes an unwise wish when she wishes a day away, and this causes the day she met Bolt to start vanishing. The only way to restore it is show one act of true friendship towards Bolt. |
| 18 | Watts and Volts | 8/3 | Prior to being bullied, Voltage wants to discover who he really is. |
| 19 | Up a Tree | 8/4 | Mittens is chased up a tree, and soon, everyone who tries to rescue her is stuck on a limb. |
| 20 | The Return | 8/5 | A mysterious figure from Voltage's past returns to exact evil on him. |
| 21 | Dance Pansted | 8/5 | A dance-off turns into a fight for life when the gang competes against Calico in fashion show. |
Season 2
Edit
Season 2 premiered on August 22, 2016, and this is Thunder's first appearance. This season heavily focuses on her and Mittens' past, though Voltage is still an important part of it. This season contains a special, and it is the origins of Thunder. This season has 26 episodes.
| Ep. No | Name | Airdate | Sypnosis |
| --- | --- | --- | --- |
| 1 | Dash of Thunder | 8/22 | Mittens opens up about her past when a pup from her past- Thunder- shows up. |
| 2 | War of the Webs | 8/27 | Voltage must conquer is fear of spiders to save Thunder and Mittens from Calico's latest scheme. Elsewhere, Bolt's powers are taken away. |
| 3 | Family Ties, Family Thrice | 8/28 | Bolt's mean cousin comes to stay for a few days, and unravels Bolt's life, leaving his friends in the middle. |
| 4 | School Spirit | 8/29 | Rhino thinks that an old school is haunted, so Mittens sneaks in to disprove this theory. |
| 5 | Tough Love | 8/30 | Thunder and Bolt have a terrible fight when Thunder's memories of humans abandoning her and Mittens ruins her trust in Penny. |
| 6 | To Err is Thunder | 8/31 | One of Mittens' pranks on bolt and Thunder have unforeseen repercussions. |
| 7 | Roots of Thunder | 9/7 | Thunder's mysterious past comes to light. |
| 8 | A Rhino in Time | 9/14 | Rhino finds a remote that can reverse and pause time, and uses it to his advantage, but this leads to consequences of epic proportion. |
| 9 | Fear the Kitty Dead | 9/17 | A new smoothie brand turns everyone into zombies. |
| 10 | One Hit Thunder | 9/18 | A video of thunder goes viral, but this jeopardizes her mission. |
| 11 | Homeskunked | 9/19 | A skunk sprays Voltage, and this leads to a chain of events that make Voltage the biggest threat to Bolt ever. |
| 12 | Say Wheeze | 9/20 | Thunder is ill, so she uses this virus to intimidate Calico. But when she makes everyone in town sick, this turns her into a pariah. |
| 13 | Divvying Wild | 9/21 | Mittens' split personalities are revealed when she is zapped by Calico's newest machine. |
| 14 | Scary Stuff: Volume 1 | 9/24 | A scary episode filled with tales of terror. |
| 15 | Stealin' my Thunder | 9/25 | A Thunder look alike is causing trouble under Thunder's name, and Bolt is the prime suspect. |
| 16 | Van Time | 9/26 | A road trip unravels the family into insanity. |
| 17 | "2 KEWL 4 SKEEWL" | 9/27 | Some punks bully Thunder, triggering her angry side. |
| 18 | Interviews | 10/20 | An interview with the creators, reviewers, characters, and OC owners of the TV show. |