He belongs to Sarah the FBI pup I adopted him from Chandlerscout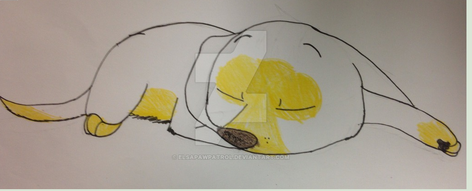 Bosco is fun-loving and silly. He has a hard time taking anything seriously, and loves to run around and have fun. He is best friends with Tony and helps him survive the alleys. He is very loyal, and a very fierce fighter, and will do anything to protect his friends.
Appearance
Edit
He is a white shepherd/Yellow lab mix. He has a yellow mask and muzzle. He has a yellow chest, paws, and tail tip.
he has no crush yet
He strongly dislikes Jenna
He welcomes Shillouette into their group with open arms.
He loves cats (as friends, not food)
Stories he appears in
Edit
Ad blocker interference detected!
Wikia is a free-to-use site that makes money from advertising. We have a modified experience for viewers using ad blockers

Wikia is not accessible if you've made further modifications. Remove the custom ad blocker rule(s) and the page will load as expected.