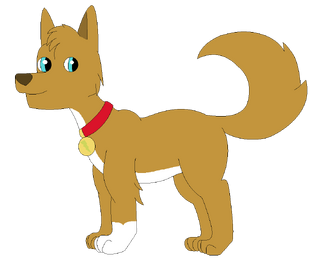 Electro is a retired T.V. star from the show Electro and Shox: Shocking team. He now lives with his owner and Shox living the happy life of a dog.
Appearance
Edit
Electro is half Husky and half Golden Retriever, he has a golden coat with one white sock on his left front paw, as well as a white chest and stomach. He wears a red collar with a golden tag that consists of a lightning bolt. He also has light blue eyes.
Personality
Edit
He is strong headed and protective of his friends. He can be quite friendly as well to those that are Jamie's friends. He loves playing a good round of fetch or just going out and adventuring in the fields located just behind their house or across the street. He always sure to be cautious though of those that he finds strange or doesn't trust.
As a pup he was rescued off the streets by Jamie, a young boy who took him in, and there that was where he met Shox a young energetic kitten that would never leave his side. At first Electro was weirded out by how attached the kitten grew on him, but he got use to her.
As the two got older, Shox and Electro were put to the test of an audition for a show. The two showed miraculous teamwork as well as a fun time together. They got the job and had a total run of 5 season before finally retiring. For their season 3 finale, they were put together with Bolt as they worked together in the show. Of course the two never mentioned their lives outside since they found out that Bolt thought he was a real superdog.
Electro now lives happily with his family on a small ranch as well, just literally living down the road away from where Bolt currently lives now.
He has no memory or his mother, and if he does have any siblings
He is the guard dog, somebody unknown comes to the house he barks unless Jamie tells him its just a friend
He loves Shox, they both can be found sleeping in his dog bed together
He has a favorite chew toy, a bone he has had since he was just a pup.
Cough* He might have a crush on a certain kitty cat *Cough*
He has trouble admitting his feelings like his owner, Jamie
Stories he appears in
Edit
Made by me:
Edit
Made by others:
Edit
Ad blocker interference detected!
Wikia is a free-to-use site that makes money from advertising. We have a modified experience for viewers using ad blockers

Wikia is not accessible if you've made further modifications. Remove the custom ad blocker rule(s) and the page will load as expected.